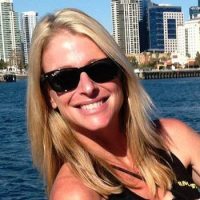 Masters Mother Runner
Three-Time Olympic Trials Marathon Qualifier
World Cup 100K Team Member
Successful with high school to ultramarathoners
Katie mixing it up on the track
Katie with husband Rob and son Owen.
Her fast teenagers Phoebe and Eli. Taken after a sprint finish in the mile. They tied!
Katie McGee has been competing as a national class road racer for nearly twenty years.
As a mother of three and full-time teacher, she understands the desire to compete at the highest level possible while managing life, family, and work. She is currently enjoying success as a master's competitor and is hoping to qualify for her fourth Olympic Trials Marathon.
Throughout her coaching career, Katie has trained a wide range of athletes. She has coached junior high and high school runners, beginners just hoping to complete a 5 or 10K race, first time and veteran marathon and half–marathoners, and Boston Marathon qualifiers.
Katherine enjoys watching her two teenagers run cross-country and track. Meanwhile, she is busy coaching baby Owen who is working hard at learning to crawl.
COACHING ACCOMPLISHMENTS
Boston Qualifiers
Lake Superior College "Marathon Training" Course
North Star Academy Cross-Country Coach
MNSCU Office of the Chancellor "Running and Wellness" Course
RUNNING ACCOMPLISHMENTS & PERSONAL RECORDS:
1500m – 4:35
5000m – 17:01
10000m – 35:20
Half-Marathon – 1:17:56
Marathon – 2:42:33
Big Sky Conference Champion– 5000 and 10000 (1996)
Olympic Marathon Trials Qualifier (2000, 2004, 2012)
USATF World Cup 100K Team (2005)
EDUCATION:
BA: English – Montana State University
MA: English Literature and Creative Writing – Northern Arizona University
COACHING CREDENTIALS: