Greg McMillan, M.S.
FOUNDER & HEAD COACH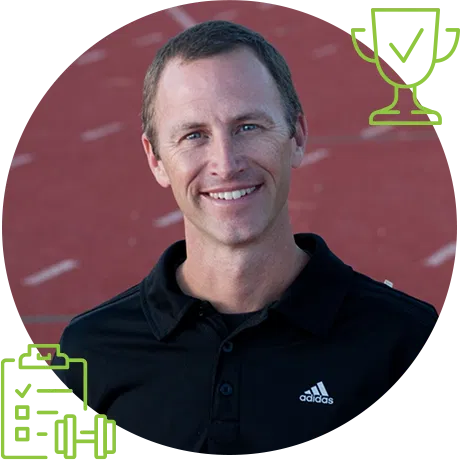 "Greg McMillan is one of the best and smartest distance running coaches in America." – Amby Burfoot, Runner's World
Greg McMillan is a runner, exercise scientist and coach with the unique ability to combine the science of endurance performance with the art of real-world coaching.
Masters Degree in Exercise Science
National Trail Marathon Masters Champion
High School State Champion
Considered one of the world's best coaches for new runners, age groupers and pro runners
Greg McMillan
Coach Greg blends his experience as a National Champion runner with his background in exercise science to create scientifically-based, proven training plans that are individualized to your unique traits. Renowned by runners and coaches across the globe, he has one of the most diverse coaching resumes, with equal success coaching new runners, age groupers, Boston Qualifiers, and Olympians. You'll love the comprehensive training package he's created:
Scientifically-based, individualized plans to help meet your goals
Optimized, advancing training paces to keep your fitness building
Full prehab programs to build an injury-free runner's body
Smarter training that fits into your busy life and schedule
Adaptable plans that evolve with you as your fitness develops
Greg's Background
Greg has a masters degree in Exercise Physiology where his research focused on the determining factors of distance running performance. A student of the sport since he began running in high school, he continues to apply advances in sports science to his training programs. As with his study of sports science, Greg continues to learn from the athletes and coaches of yesterday and today. He vigorously studies the great books on running and is eager to be around successful coaches and athletes to learn from their experiences. His mentors include the late, great Arthur Lydiard (who he toured with on Lydiard's last US tour), Olympic Coach Dr. Joe Vigil, Peak Running Performance founder Guy Avery and USA Track & Field physiologist Dr. David Martin.
Greg is a regular speaker at sports conferences, national races, running groups and business events. For more information on how to have Greg speak at your next event, email us:
COACHING ACCOMPLISHMENTS:
Over 10,000 Boston Qualifiers (and counting!)
Olympic Games – 2008, (2012 – alternates)
Olympic Trials – 1996, 2000, 2004, 2008, 2012
World Championships – 2001, 2003, 2005, 2007, 2009, 2011
Pan American Games – 2003
14 National Champions
San Diego Arthritis Foundation Joints in Motion Charity Beginner Marathon Groups
San Diego Track Club North County Coach
Alliant International University Track & Field Coach
Assistant to the Executive Director – 1996 Women's Olympic Marathon Trials
Creator of McMillan Running Calculator
RUNNING ACCOMPLISHMENTS & PERSONAL RECORDS:
800m – 1:57
1500m – 3:57
5000m – 14:55
10000m – 30:57
Half-Marathon – 1:10:28
Marathon – 2:31:58
High School State Champion – 1600m (1987)
National Champion – USATF Masters Trail Marathon (2009)
EDUCATION & PUBLICATIONS:
BS: Kinesiology – The University of Tennessee (with honors)
MS: Exercise Physiology – The University of South Carolina
Author – Running Nirvana
Author – Surviving the Marathon Freak-Out
Author – YOU (Only Faster): Training plans to help you train smarter and run faster
Author – Zap! You're a Runner! The beginning runner's guide to fun and fitness
Author – Training Guide and Logbook
Senior Writer – Running Times Magazine
Contributor – Competitor Magazine, Active.com
Managing Editor – Peak Running Performance
Consulting Expert: Runner's World Magazine, Running Times Magazine, New York Times, Washington Post, Women's Running Magazine, Outside Magazine, Men's Health Magazine, Peak Running Performance, Oxygen Magazine, Best Life Magazine
BS: Kinesiology – The University of Tennessee (with honors)
MS: Exercise Physiology – The University of South Carolina
USA Track & Field Certification – Level II (Endurance Specialty)
RRCA Certified Coach
Lydiard Foundation Certification – Level 5
"I got my first Boston Qualifier today with a 21 personal record!"